Published May 26, 2017 on xonecole.com 
Katerina "Kat" Graham is a powerhouse in every sense of the "word," – literally.
You may know Kat Graham for her role as "Bonnie Bennett" in TheVampire Diaries but the 27-year-old is currently gearing up for her debut as a young Jada Pinkett (sans"Smith") in the upcoming Tupac biopic, All Eyez on Me, and let's just say fans may be in for treat.
Although she's a bit nervous about it, she has the slender and petite aesthetic of 5'0″ Jada Pinkett. And much like the outspoken veteran actresses, the eloquently bold Kat had a mindful and mouthful to say about her life and her role last year when Kode Magazine debuted their groundbreaking #GenerationNoir issue,
In short, to say Kat was preaching a good word in this sit down would be an understatement. Peep the most compelling parts of Kat's interview plus an exclusive peek at Kat in All Eyez On Me below:
On Her Mom Teaching Her to Choose Positive Black Roles Only: "Make Your Race Proud"
"I'm a Black girl. My mom even said to me when I was younger, 'You need to take projects that make your race proud. You need to be a positive representative.' It's not just – 'Oh I'm going to play a stroin ng African American woman on a television show.'  It's also what you do when you're not shooting, your free time. Are you going to be walking red carpets to get fashion press, or are you going to be actually dedicating your time to helping people? Maybe visit refugee camps, or go profile people, work for the U.N. refugee agency, you know – take some damn responsibility for the fact that people are watching you."
On Witnessing the 'Dark Side' of Hollywood:"I saw the rise and fall of Lindsay Lohan"

"I think when I first started in the industry, I was very bright-eyed and bushy-tailed. I thought that Hollywood was fair and once they saw me dance and act and sing, that if I was just a very nice person, everything would come to me quickly. Then as I started to get into thirteen or fourteen years old, things got a little dark, really. Living in one bedroom apartments in Hollywood with your mom, having no money – a little darkness started to set in. My views on Hollywood changed a little then.
"I did Parent Trap when I was a little girl. I saw the rise and fall of Lindsay Lohan. I was seeing a lot of drugs and all this stuff. And it was at about that time that I had to really look at myself and say, 'What kind of person do you want to be?' Because at that time there weren't a lot of roles for women who looked like me. And if there were, no one cared about the little black girl who had a little part in this or that, unless it was Raven Symone or someone from The Cosby Show. That's when I started to write my own little short films. And I started producing my own music. That's when I started to develop as an artist. I didn't like what Hollywood was doing, and I wanted to create something different."
On the Future and Helping to Create a World She Hopes to One Day See: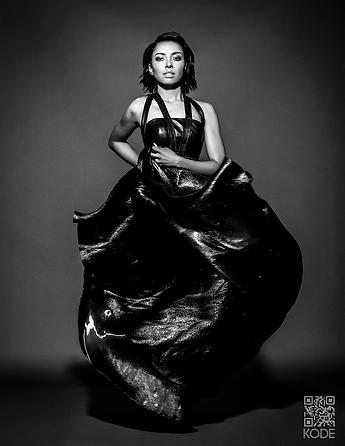 "I'm hoping that I can live in a world where it's okay to challenge the mold, where we are all different shapes and sizes and we come from different places. I'm hoping that I can live in a world where there are black-owned businesses, and African Americans support other African Americans, and we don't tear each other down. That we do more than just tweet a hash-tag about something, that we get out there with picket signs, that we challenge an unfair system, that we speak on things that maybe people would rather not talk about.
"I'm hoping that I can live in a world where the men and women are strong and opinionated and still graceful and poignant in how they express themselves. I hope that I can live in a world where that takes precedence over looking pretty at an awards show."
On Playing Jada Pinkett and the "Bigger Picture"
"It's so important to me, the work I'm doing on this project. Because Tupac and Jada saw something different for themselves when they were growing up. They wanted to be what the industry tried to peg them as.
"No one is perfect. No system is perfect. There are things in our government that we could definitely work on."
Phenomenal woman! Check out the gallery of Kat's sophisticated slay below!
Subscribe to my mailing list
Subscribe to my mailing list